Teams from the Eads Middle School Knowledge Bowl recently traveled to Flagler for the fourth competition of the season.
Both teams returned to Eads with materials as the seventh grade team won the first place trophy and the eighth graders finished second in their division.
Eighth graders Eric Murdock, Sophie Mitchell and Karsten Buller were joined by seventh grader Kinsley Williams. They obtained a good mark in the written test, followed by a mediocre mark in the first oral round. They bounced back in the second oral round and scored 13 points, which propelled them into second place heading into the third and final oral round. There were several teams right behind them in total points and the pressure was on as they faced a strong Walsh side and a good Byers side. Team members tied Walsh point-for-point in the final round and held on to second place.
Eads' seventh year was represented by Adyn Hough, Tucker Wallace, Anthony Paez and Jayson Bletzacker. They had the second-highest written round score in the seventh-grade division and followed with three very strong oral rounds. They got 13 points in the first oral round and improved on that with the second-highest points total in the tournament in the second round with 15 points. They also scored in double figures in the third oral round and claimed the first place trophy with a very impressive 21-point lead.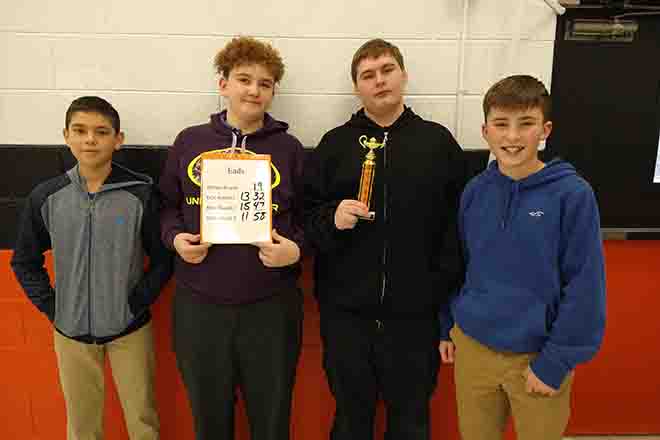 The college students will have a few weeks off while the high school season warms up, then they will resume competition in mid-February.